Dominique Christensen of Witham Hill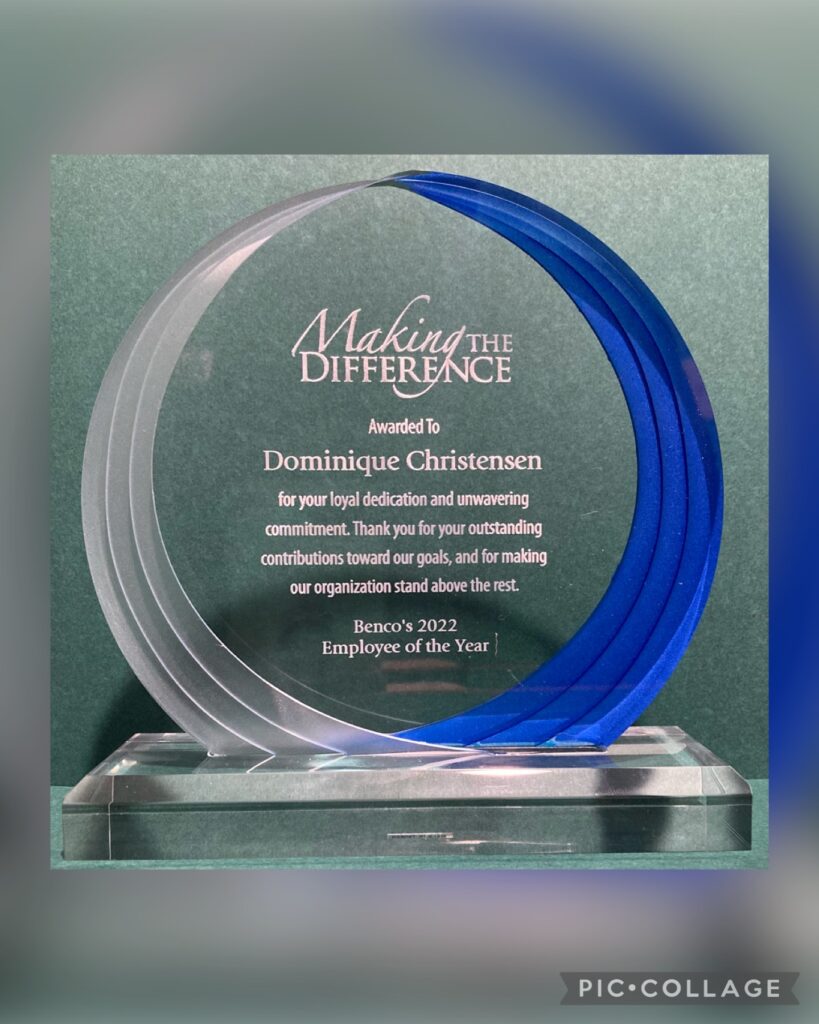 Dominique deserves to be Benco's Employee of the Year because she is hard working, dedicated, and her work ethic exceeds my expectations. Dominique is always willing to step in and help our program without question through challenging times, and her nurturing nature and empathy are the epitome of what Benco stands for. Dominique is the foundation of Witham Hill, and she consistently goes above and beyond to ensure that our resident continues to thrive and has an enhanced quality of life.
Dominique continues to maintain healthy and positive relationships with her coworkers, and a strong bond with the individual we support. Dominique always shows up to work with an optimistic attitude, and she keeps an open line of communication with the PC and her coworkers to ensure they are in the right mindset and successful during their shift. Dominique is extremely flexible, and she's always willing to come in early or stay later during her shifts to ensure the program needs are met sufficiently. Dominique's job performance is incomparable because her documentation is exceptionally thorough and reflects the strengthened relationship she has with the individual we support. Dominique embodies teamwork, dependability, and reliability, because she continues to remain loyal and dedicated to her position at Witham Hill. Despite the many challenges and staffing shortages we've encountered at the program, Dominique'[s compassionate heart and supportive nature contribute to facilitating a positive work environment for everyone around her. Dominique encompasses the essential values that are vital for promoting person-centered support that enriches the quality of life for the individual we support.
Dominique is very open-minded, and she often shares valuable feedback with the PC and her coworkers to provide a healthy and safe environment for the individual we support. Dominique always compiles with the support documents and protocols, and she provides beneficial problem-solving solutions when health and safety issues arise in the program or in the community. Fore example, Dominique strives to maintain the upkeep of the program, and she often involves the resident in the process of completing chores around the program by making it a fun and interactive experience rather than an unfavorable task. Dominique exudes the strength that is necessary to overcome any challenges that may arise, whether at the program or in the community. For example, there was an instance where the resident had an issue shortly after Dominique dropped her off at her day program. Dominique responded immediately when the day support staff contacted her for assistance, and Dominique maintained her composure during the situation. Due to Dominique's positive relationship with the individual we support, Dominique intervened and successfully de-escalated the situation while ensuring the safety of the resident and everyone around them. Despite the stressful circumstances, Dominique's calm demeanor and empathetic nature were essential factors that kept the resident safe and contributed to facilitating a baseline mood once they returned to the home site program.
Dominique always has a positive attitude that is contagious and shines through at Witham Hill. Dominique is very approachable to the PC and her coworkers, and she genuinely cares about the well-being of everyone around her, including the individual we support. Dominique often engages in active listening when the PC and her coworkers approach her with questions or concerns, and she always provides insightful advice to set the program up for success. Dominique is very respectful and kind, and she consistently utilized the Bravo Awards to acknowledge her coworkers and the individual we support for a job well done, which plays a significant role in maintaining a positive morale in the program. In addition to the Bravo Awards, Dominique verbally acknowledges her coworkers and the individual we support through compliments, verbal praises, and simple gestures (encouraging stickers and refilling our goodie basket with treats).
Dominique goes above and beyond to ensure all tasks are completed prior to leaving the program. Since Dominique's position as a DSP for over five years, she has done a superb job of serving as a mentor to her coworkers by offering valuable insight so they can incorporate person-centered services that coincides with the support needs of the resident. Dominique always takes the initiative to stay longer during her shifts to clean the apartment while the resident is at her day program, and she consistently makes a valid effort to maintain the cleanliness of the apartment by including the resident in the cleaning process while she's at the program. When the resident went home to visit family for the Christmas holiday, Dominique took advantage of the opportunity and spent an additional four hours deep cleaning the apartment rather than going home after her shift. Dominique utilizes her time wisely and efficiently, and she always ensures that the resident's support needs are met at the program and in the community. Dominique is very attentive to everyone around her, and her ability to problem-solve when issues arise plays a substantial role in the continued success at the program.
Dominique has a superior work ethic, and she is very dedicated to her position at Witham Hill. Dominique exemplifies teamwork and she goes above and beyond to cover open shifts during our staffing shortages. Dominique epitomizes dependability and reliability, because she genuinely wants the program to succeed, and she always shows up ready to provide the best support possible to the resident. Dominique is always available to lend a listening ear to the PC and her coworkers, and her nurturing presence is vital to promoting a healthy environment for her peers and the individual we support. In addition to covering several open shifts at the program, Dominique always gives the PC advance notice when she requests time off. Dominique takes the initiative to find coverage for her shifts well in advance, which supports the PC immensely, and plays a significant role in helping to minimize any gaps in the staff schedule.
Dominique has received several Bravo Awards from the PC and her coworkers to acknowledge how much we appreciate her hard work and dedication at Witham Hill. Dominique is a pleasure to work with, and her optimistic attitude and positive energy radiates at the program. Dominique consistently incorporates person-centered services to the individual we support, and her teamwork, dependability, reliability, and work ethic are invaluable. Dominique's nurturing nature, compassion, and empathy for others are the epitome of Benco's values because she genuinely CARES WITHOUT LIMITS!
~Jodi Henderson
Witham Hill Program Coordinator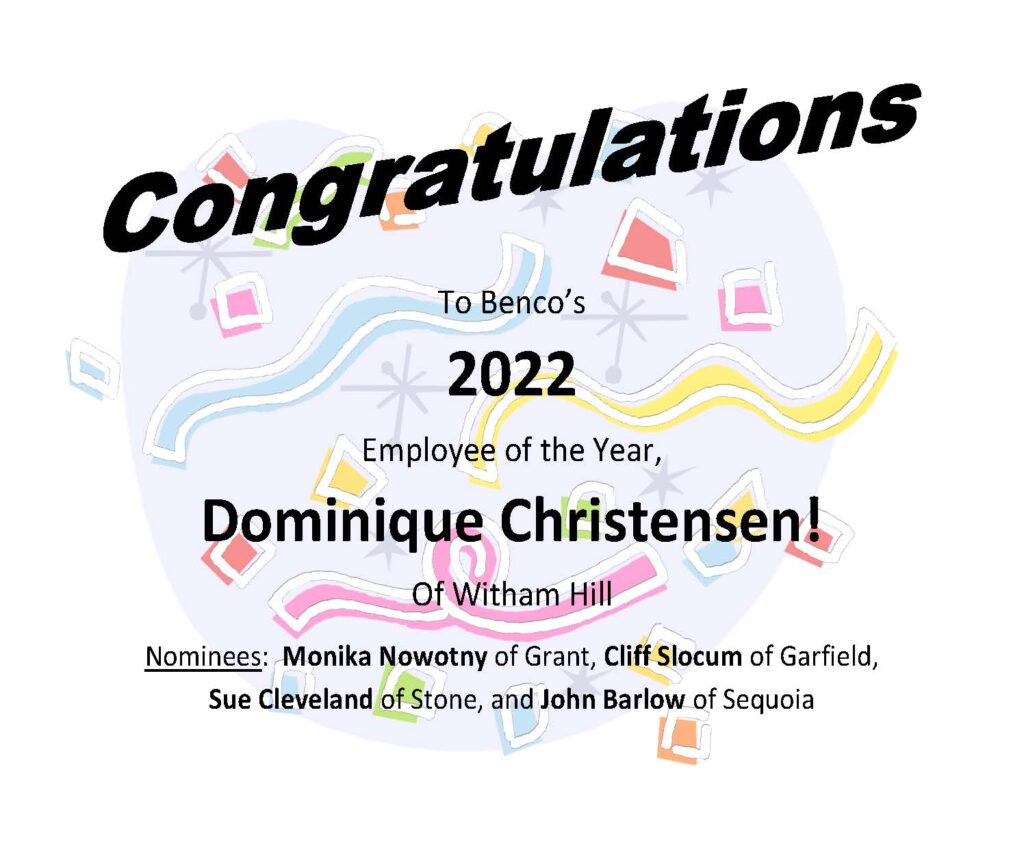 Also Nominated:
John Barlow of Sequoia
When I hear people from other programs or outside agencies refer to John, one of the things that sticks out the most is "He's so nice!" It is telling that this is the impression that John gives to all who interact with him, whether it is something as small as a phone call or how he greets a visitor at the door; interact I have heard it from pharmacy employees, day program staff, and staff from other programs alike. This is emblematic of the type of person, not just caregiver, that John is, and one of the many reasons I believe he deserves the honor of Employee of the Year.
John shows each one of the residents that he genuinely cares about them in both his actions and his words. He is an engaged listener; remembers small details so that he can follow up and give meaningful compliments; and takes time to do special things. For example, he gently prompted a resident in an interaction with a community member to share about their blanket-making skills; the resident was able to share about the prowess and receive positive and real feedback. This makes her SO proud and excited! In another example, he knew that a resident was feeling down about their birthday, and he made a point to plan a special out-to eat birthday dinner at a restaurant of her choice. She raved about it for weeks afterward of how special her birthday was. When a new resident entered the program, he was purposeful about spending time with her regularly – not just when she moved in, but on a regular basis – to listen and help her feel comfortable. He has helped the residents understand each other and their different ways of behaving and communicating and does so in a gentle and respectful way. It is clear that the residents appreciate him as a caregiver and truly enjoy his personality.
John has a gentle way of interacting with residents and encouraging them to do things in the best interests of their health, whether it is taking their medications on time or making a healthier food choice.
John exudes warmth, care, and kindness in each interaction. I have witnessed on multiple occasions expressing gratitude to his co-workers for small tasks and see the way that it helps foster connections and collaboration between the team.
John is the lead staff at the Sequoia, and has really impressed me with the way he naturally takes on tasks, whether it is counting in meds; being one of the staff who regularly comes in early to ensure rides are in place for resident; or volunteering to take residents for lab draws or doctor's appointments. He also stepped up to be the staff person who does a weekly budget meeting with a resident there who often struggles with the limits of budgeting. John knew this would be a challenge and readily took it on so that he could be the one to help her work through it.
John has volunteered on multiple occasions to come in early and stay late to ensure that resident needs are met. He can be counted on to come in to help with resident transportation to work or stay late if a resident is caught up in an appointment or in the midst of a task they need assistant with.
Ultimately, the adverb that continues to come to mind with John is "genuinely." John is a genuinely kind person; he is a genuinely caring person; and he is a genuinely engaged and enthusiastic caregiver. The pride he takes in his work and in building real connections is tangible. I feel John exemplifies Benco's values and as such is much-deserving of this honor!
~Laura Lonski
Benco Residential Director
Sue Cleveland of Stone
Sue is reliable, unproblematic, and a selfless individual while working at the program. She is investing in providing exceptional, person-centered care at all times. She is an advocate for the residents and promotes accountability among staff members. She is an integral part of Stone Street and Benco, dedicating the past twenty plus years of her professional life to this organization and to the individuals we serve.
After losing one of our long-term morning staff, Sue assumed the role of both morning staff. She hustled and ensured that all resident routines remained as un-phased as possible during this time.
Sue is a very health-conscious person. She talks about healthy recipe options for one of the residents and wants to add healthy food options for one of the residents to add to their diet.
At our November staff meeting, Sue expressed her gratitude for every staff member at the program. She didn't leave a single name out. She recognizes the importance of teamwork and maintaining positive work relationships.
Sue will often bring up/think of new/more efficient and effective ways to document care. She is the staff member who suggested that we have a consistent Therap tracking field for each resident i.e., sleep training for all, reposition training for all. This helps with accountability and sets standards of care/expectations.
Recently, we had a morning schedule become open. Sue was the first person to volunteer one of her days off to help with coverage if it meant the program and residents would benefit.
Sue will stay past her scheduled end time in order to assist with providing care to the residents. She never complains about having to stay a little later, she is happy to help.
Sue has taken the rains in training our new DSPs. She is purposeful with her communication and is excellent at giving report.
Sue has committed the last twenty plus year of her professional life to Benco and the residents of her programs past and present.
Sue is a kind and caring person. She helped and helps me tremendously when I have questions about past care of residents.
~Kayla McNeeley
Stone Street Program Coordinator
Cliff Slocum of Garfield
Cliff is the embodiment of "Caring Without Limits", selflessly putting the needs of others before their own to ensure the well-being of the individuals they support as well as the staff they work with. The level of teamwork that they bring to the table exceeds all expectations, putting the mental and physical health of their co-workers on par or above their own; they have put their own personal issue "on the back burner" more than once simply because someone else asks them to. They have chosen not to request time off for holidays and events that are important to them in order to help meet the needs of the house and the individuals. They are always empathetic when a teammate is having a hard time, regardless of if it is personal or professional; they are the type of person to say, "do you want to take a break, I've got this," because they know the importance of self-care.
Having once been a PC, they understand the underlying needs of the program better than any other staff, they intuitively know what situations can be stressful to management, and they regularly provide support and encouragement to management in overwhelming situations like staff shortages and emergency incidents. The years of knowledge and experience that they bring to the program and the year of dedication and service that they provide to the company are an invaluable resource. They will cover five overnight shifts in one week because they are, because they can, because they know it helps, and because that's the type of person that they are.
Their integrity and dedication to doing the best job possible is seen every time they are on shift; they always ensure that they are offering choices, encouraging independence within the home, and providing person-centered care while being kind, compassionate and respectful to everyone they encounter. They bring joy and happiness with them to work, and the individuals are able to reciprocate that energy. As someone who is musically inclined, they enjoy picking up a guitar or sitting at a piano and sharing that music with others, creatively finding a way to include everyone who wants to be included, and they get ho have a little fun and share their talent, spreading positivity throughout the house.
"Go-getter", "hard worker", "great guy", "so much fun", "on-top-of-it", "giving", and "one of the best" are the ways others describe Cliff but this is really only the tip of the iceberg.
It should not be possible for one person to put so much of themselves into a job; they don't just bring 100% or even 110%, they bring 200%; they don't just bring their "AS" game, they bring their "A++" game. Cliff show what "Caring Without Limits" really looks like and since Cliff was Employee of the Month for May 2022, They have continued to step in and step up; their efforts in the last seven months in addition to all their efforts over the last year are why they should be the Employee of the Year for 2022.
~Gina Hannah
Garfield APC
Monika Nowotny of Grant
Throughout the year of 2022, There has been a significant amount of changes at the Grant program, Monika has been very receptive to all the changes and kept a positive attitude throughout the struggles and provided excellent care to the residents and also provided extra help to her Program Coordinator.
Monika is very knowledgeable of all aspects of her job responsibilities, she excels in all areas, she is very helpful to all her peers, teaching them the correct way of doing things, i.e., documentation and things like that. She is always able, willing, and ready to help her Program Coordinator with any needs she might have and is very knowledgeable of the job duties.
Monika does a great job, giving knowledge to her peers when she sees a health and safety concern. And also, when she sees the health and safety concert, she will reach out to her Program Coordinator and bring up these concerns so her Program Coordinator could work through them to correct them immediately.
Monika always comes to work with a good attitude and a lot of fresh ideas for the day to make the day successful for bother her peers and the clients. She has built a good rapport with all her peers and has helped out all the new staff training.
Monika has very strong leadership skills. She is definitely not afraid to maker her peers aware of what's right and what is wrong and also teacher her peers how to do things the correct way, and also being a secondhand man for her Program Coordinator. Monika has picked up a lot of tasks to help her Program Coordinator like making copies at the office, highlighting the MARs and TARs, putting new medication orders on the MARs, things like that make my job a little bit easier when I am strapped for time, I do appreciate all the hard work she puts in that are extras.
Monika is very dependable when you ask her to do something she does it right away and she does it correctly. She is never late and does not call of work very often.
Some things Monika does that demonstrates the values of Benco and goes above and beyond within the work she does are:
Making sure the residents always look nice for the day.
Using her creative mind for the residents on festive days to ensure the residents have fun and look their best.
Always offering to training a new employee to ensure they get everything down correctly.
Always organizing the home to ensure everything looks up to par.
Checking in with the PC to see if there's anything extra, she could do to help.
Always picking up the mail from the office when the PC doesn't have time to do so.
Highlighting MARs and TARs for PC.
On occasions putting new orders on the Medication MAR.
Has helped with cycle fill on occasions.
Making copies at the office for PC without being asked.
~Patricia Mayotte
Grant Program Coordinator