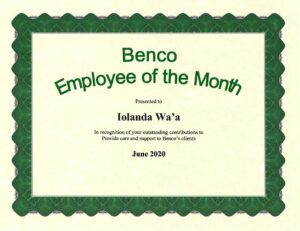 CONGRATULATIONS TO IOLANDA WA'A OF GLEICHER, JUNE 2020 EMPLOYEE OF THE MONTH!
Iolanda has done a great job of being available and always bringing a positive attitude when at work.
Iolanda is a long-term sub and has really stepped up for the Gleicher program being very willing to help cover needed shifts to ensure that quality care is present at the program.
She has a great sense of humor that brings a positive energy to the program that helps boost both staff and client morale during times of quarantine.
For these reasons I would like to nominate Iolanda Wa'a for employee of the month.
~Zach Basham
Program Coordinator at Gleicher