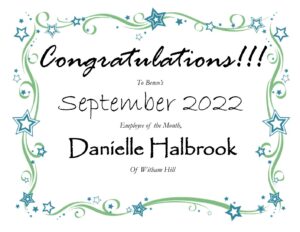 🎉 CONGRATULATIONS🎉 TO DANIELLE HALBROOK OF WITHAM HILL,
SEPTEMBER 2022 EMPLOYEE OF THE MONTH!
Danielle is very dedicated to the program and she is a positive role model to the resident and staff. Danielle was very supportive with helping the PC cover extra shifts while another staff was on vacation. Despite her busy life with supporting her family outside of work, Danielle's work ethic is phenomenal. Danielle always comes to work prepared, and she is very respectful to the resident and staff.
Danielle is very approachable, and her compassionate heart shines through at Witham hill. Danielle's empathy and willingness to help PC and staff are indispensable. Danielle is very open-minded and she offers valuable input that is essential for setting up her peers for success. Danielle is a model employee, and we appreciate all that she does for the resident and Witham Hill.
~Jodi Henderson
Program Coordinator