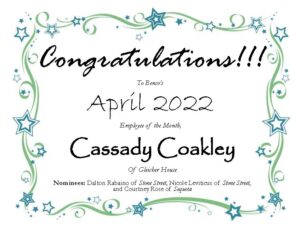 🎉 CONGRATULATIONS🎉 TO CASSADY COAKLEY OF GLEICHER,
APRIL 2022 EMPLOYEE OF THE MONTH!
Cassady is an amazing staff that goes the extra mile for the residents. She frequently comes in on her day off to take residents to various events around town. Cassady shows natural leadership qualities and initiative while at work. She has come up with great solutions to household problems and is very consistent with resident care and exercise routines. It is the quality of choosing to go above and beyond on a regular basis that she deserves to be the employee of the month.
~Zach Basham
Program Coordinator