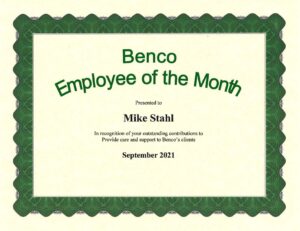 CONGRATULATIONS TO MIKE STAHL OF GRANT,
SEPTEMBER 2021 EMPLOYEE OF THE MONTH!
Our employee of the month this month is a very dedicated person not only to the residents he works with but also the staff he works with. The staff member is always on time for work and is always willing to pick up extra shifts to help the Grant program. The staff member is always willing to help out other staff members in regard to looking out for them, i.e., the staff member has caught potential med errors, documentation errors, remind other staff members of duties they forgot to do during their shift.
The employee of the month always takes their work very seriously here at the Grant program. I have never heard this staff ever gossip or talk bad about other shift partners. I also never hear this staff member complain about being given extra work duties. Always a good mentor for all shift members in the home. Great utilizer for all the leftovers!
Great job Mike!
We appreciate you!!!
~Patricia Mayotte
Program Coordinator at Grant.