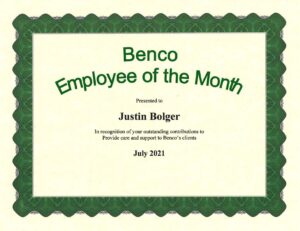 CONGRATULATIONS TO JUSTIN BOLGER OF GLEICHER, JULY 2021 EMPLOYEE OF THE MONTH!
Justin is a huge asset to the Gleicher program. He exhibits leadership skills as well as a willingness to be a team player and help out when needed.
As the program has been shorthanded, Justin has willingly worked both weekend day shifts in addition to the two overnight he already works. This has allowed for other staff including the PC to have needed days off from the program. He has done this with a great attitude and happy spirit which in turn makes the program a more positive place to be.
For these reasons I believe that Justin would be a great Employee of the Month.
~Zach Basham
Program Coordinator at Gleicher.