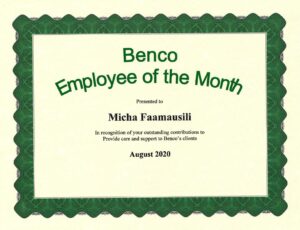 CONGRATULATIONS TO MICHA FAAMAUSILI OF GLEICHER, AUGUST 2020 EMPLOYEE OF THE MONTH!
Micha brings a wealth of knowledge and experience to the Gleicher program. She has built lasting relationships with the residents of the program.
Micha has also helped the program by creating an overnight staff schedule of events for new staff to use to help with tasks needed to be completed during an overnight shift. This tool has been helpful in training purposes.
Micha's willingness to help the program and her great attitude are the reasons that I would like to nominate her for the August 2020 Benco Employee of the Month!
~Zach Basham
Program Coordinator at Gleicher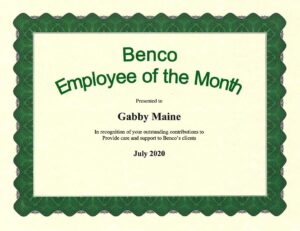 CONGRATULATIONS TO GABBY MAINE OF SEQUOIA, JULY 2020 EMPLOYEE OF THE MONTH!
Gabby Maine has done a great job covering shifts at the program. Summertime is when everyone is wanting to have time off, we have had some injuries, and are working to cover open shifts. For the past, several weeks Gabby has come in early on her weekend overnight and stayed later the next morning to help with coverage due to some potential behavioral incidents. She has also covered double coverage shifts during the week for people on vacation, and covered some day shifts for staff who had an injury. Staff that don't usually get to work with Gabby told me they had great shifts and appreciated the way she worked with them.
Our garden box has produced lots of zucchini and Gabby has made some delicious low carb zucchini bread a couple times last month. She also likes to take the residents on outings for walks to get out of the house and they picked some blackberries.
When Gabby is in, I know that she can work the morning portion of her shift by herself and has an amazing calming quality for the individuals we support here. It is very clear the residents like when Gabby is here because they usually have giant smiles on their faces. Not only does she do a good job with the residents, but she has had to field a few challenging phone calls from outside individuals. She has been kind and was able to relay the needed information regardless of how she was spoken to.
~Molly Maxwell
Program Coordinator at Sequoia