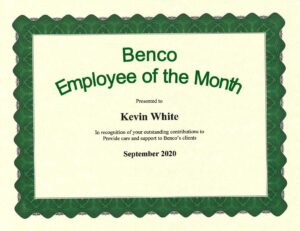 CONGRATULATIONS TO KEVIN WHITE OF ROLF HANSEN, SEPTEMBER 2020 EMPLOYEE OF THE MONTH!
I would like to nominate Kevin White for Benco employee of the month.
During the past few weeks, he has taken it upon himself to develop weekly special outings with a resident. They have been to parks, ice cream, car rides through the country, had fun with lake ducks, spotted lots of interesting community activities. The resident looks forward to these outings every week and talk about them throughout the next week. The resident is having a blast during these special one on one outings. They really make the resident feel special.
Thanks Kevin!
~Marc Oldham
Program Coordinator at Rolf Hansen