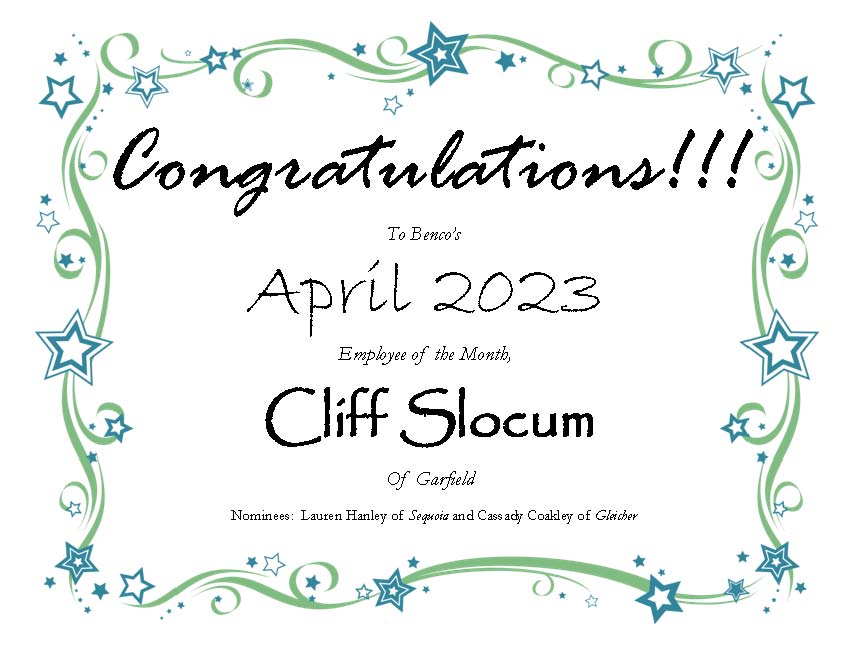 🎉 CONGRATULATIONS🎉 TO CLIFF SLOCUM OF GARFIELD,
APRIL 2023 EMPLOYEE OF THE MONTH!
Cliff is a long time employee of the Garfield program. They have been a huge help to me, a new Program Coordinator in the program. They have a commanding knowledge of the residents and systems that are in place at the program and have happily shared this knowledge with me to help ease the transition. In addition to this, they have consistently been working an extra overnight shift each week to ensure that there is coverage at the program and that the residents are well cared for. This is done with a good attitude and consistency. They are a huge asset to the Garfield program and for this they deserve to be employee of the month
~Zach Basham
Program Coordinator at Garfield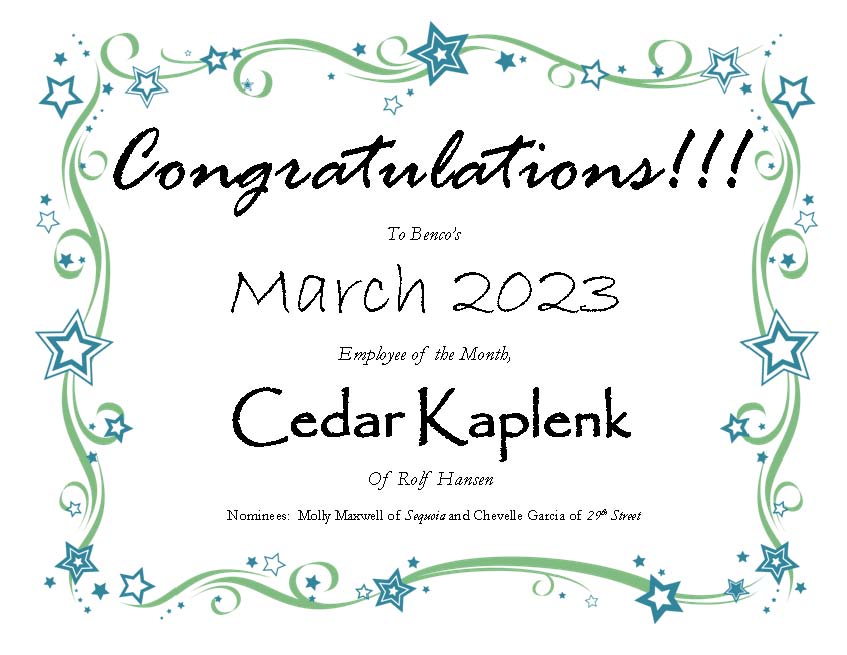 🎉 CONGRATULATIONS🎉 TO CEDAR KAPLENK OF ROLF HANSEN,
MARCH 2023 EMPLOYEE OF THE MONTH!
Cedar has taken on the lead role over the last several months of advocating for one of the residents who has had tremendous work issues. He has helped with the unemployment process, listened to the resident's account of all the details and taken notes, attended meetings with other support people about the issue and spoken to and filled out paperwork that will allow the resident to work with a local lawyer.
Cedar is very professional when dealing with this issue. He has listed to and consoled the resident many times, making sure to explain each step in the process to them. Cedar is also this resident's main technical support when it comes to helping them on their computer projects. Rolf Hansen is a better place because of Cedar!
~Heather Reynolds
Lead Staff at Rolf Hansen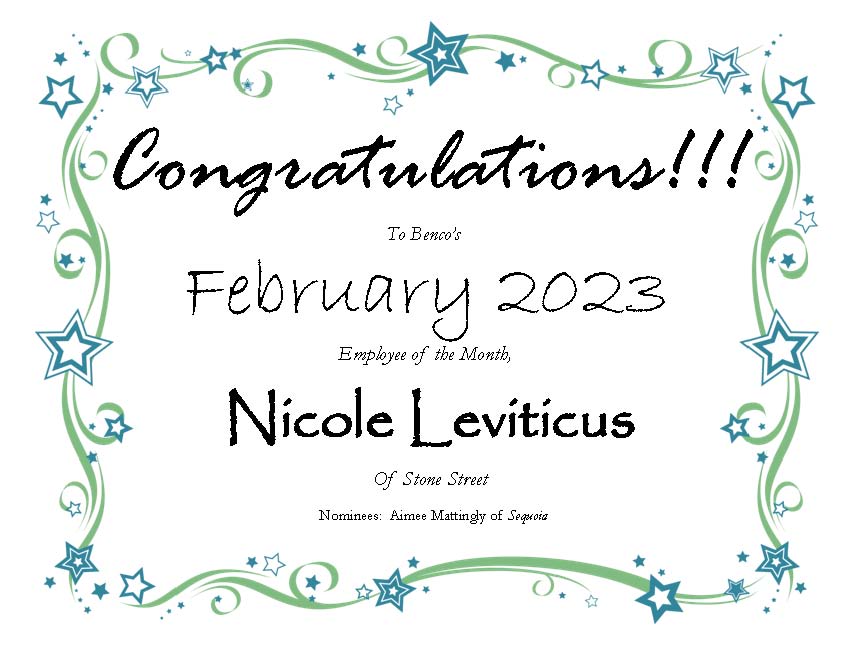 🎉 CONGRATULATIONS🎉 TO NICOLE LEVITICUS OF STONE STREET,
FEBRUARY 2023 EMPLOYEE OF THE MONTH!
I would like to nominate Nicole because she has really gone above and beyond for not only Stone Street, her home program, as well as the Grant and Witham Hill programs too!
Because of her flexibility, willingness to learn, and ability to connect with others, Nicole has contributed enormously to the improvement and daily flow of the programs she is a part of.
I have heard nothing but great things from the Program Coordinators Nicole has worked with at Grant and Witham Hill
~Kayla McNeeley
Program Coordinator at Stone Street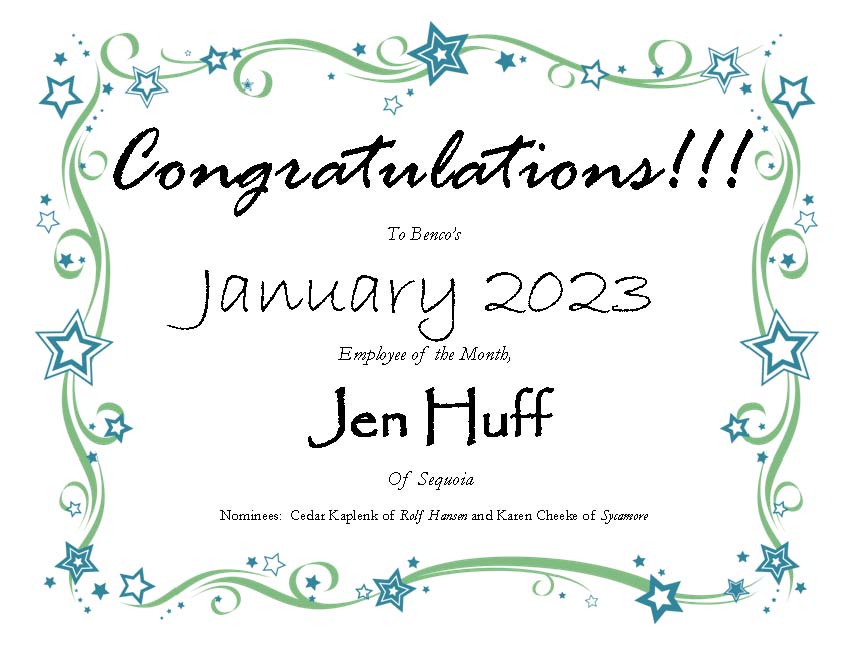 🎉 CONGRATULATIONS🎉 TO JEN HUFF OF SEQUOIA,
JANUARY 2023 EMPLOYEE OF THE MONTH!
Jen has been doing a great job as the Assistant Program Coordinator. she stepped in seamlessly and was a quick study when first hired in September. Through the month of January she has taken one resident to the gym each week. she comes in early for her Overnight shift each week and then she stays later the next day to make sure the necessary management needs are met.
We have also had a resident who had several stays in the hospital so Jen has had to coordinate follow up medical appointments for this individual and she has taken them to multiple each wee. In addition to the medical needs relating to the hospital stays, Jen has also been working to establish a new doctor for the individual. Due to rescheduling by the doctor office and the hospital stays the scheduled meet and greet appointment for the resident with the doctor was rescheduled multiple times. Jen checked back regularly to get a sooner appointment and then came in on her day off to accompany the resident to the appointment to ensure that she was seen as soon as possible.
Jen has taken over writing the weekly schedule while we have no Program Coordinator and the Residential Director has been on leave. She makes sure that when a special occasion like Night to Shine, or an outing for a resident comes up that staff are scheduled for the appropriate time frames needed. She is also making sure that there are treats, coffee, and energy drinks for staff at the program. Having access to these little things is a nice touch when coming in for a shift.
Thank you Jen, for always having a positive attitude when on shift!
~Molly Maxwell
Direct Support Professional at Sequoia