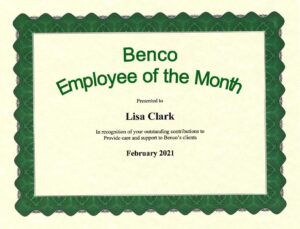 CONGRATULATIONS TO LISA CLARK OF GLEICHER, FEBRUARY 2021 EMPLOYEE OF THE MONTH!
Lisa Clark has been with Benco for many years, twenty I think. I've worked alongside Lisa at both Gleicher and Supported Living programs and she's been an inspiration for me. While Lisa has a quiet approach, she is engaged, thorough, patient and connected to all the residents she supports.
Her patience and dedication is profound and I always feel like I learn a different approach when I work with her. She often has a thoughtful suggestion or new idea that proves helpful. She has the ability to build trust with all clients and is never thrown by challenging behaviors.
Lisa consistently goes above and beyond for all of the residents she supports and as a result they trust her and look forward to their time with her. I am grateful to learn from her and that she is present in the resident's lives.
~Andrea Heath
Direct Care at Gleicher.