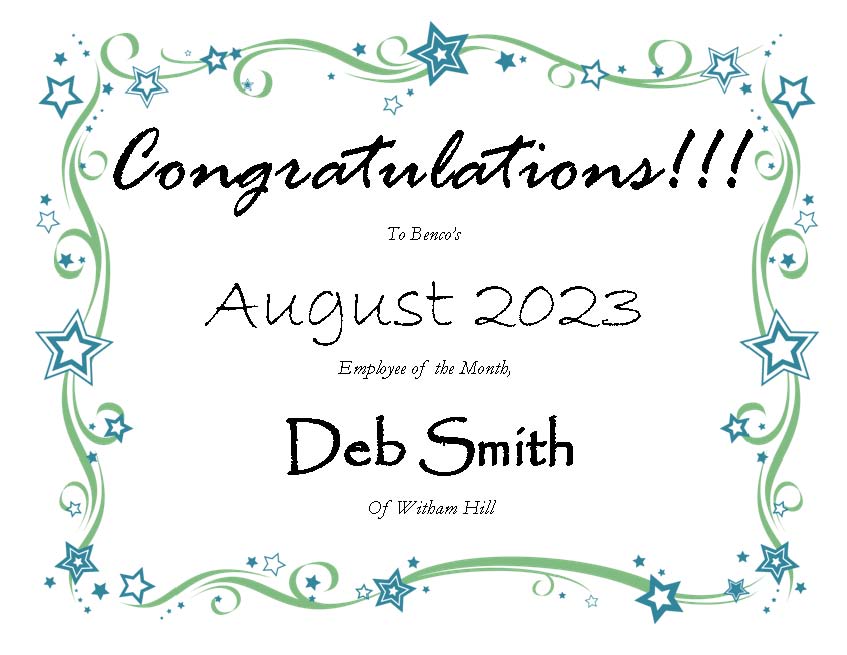 🎉 CONGRATULATIONS🎉 TO DEB SMITH OF WITHAM HILL,
AUGUST 2023 EMPLOYEE OF THE MONTH!
Deb goes above and beyond to incorporate person-centered supports to the individual we support. Deb is very open-minded and she is always willing to support her team and the PC in any way possible.
Deb's calm demeanor and positive attitude play a vital role in maintaining a healthy environment for the individual we support and her co-workers. Deb has proven to be very dependable ad reliable and she is always willing to help cover shifts when needed.
Deb consistently puts in effort to maintain a positive relationship with the individual we support and she always shares insightful ideas with her co-workers to set them up for success. Deb's presence is invaluable, and we are grateful to have her at Witham Hill.
~Jodi Henderson
Witham Hill Program Coordinator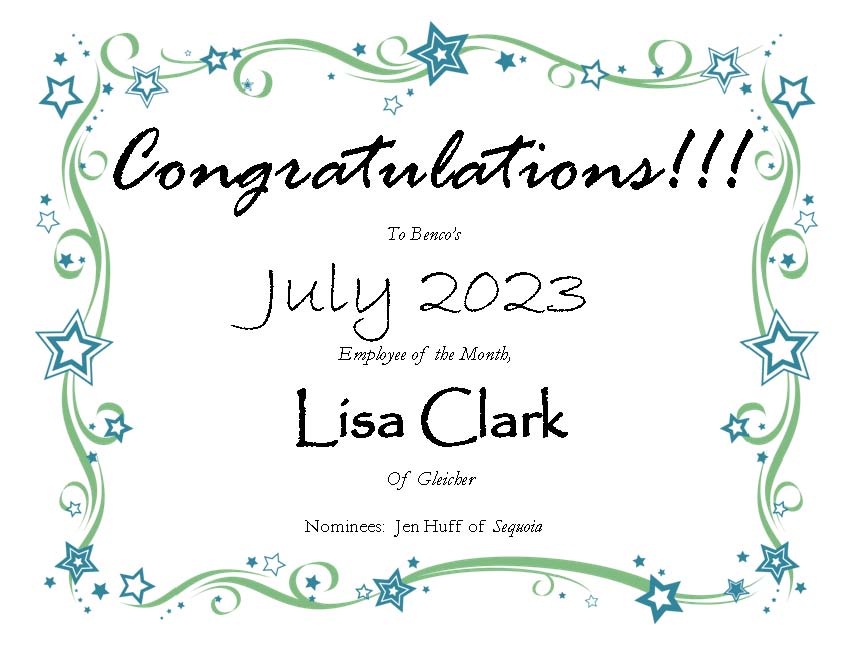 🎉 CONGRATULATIONS🎉 TO LISA CLARK OF GLEICHER,
JULY 2023 EMPLOYEE OF THE MONTH!
Lisa is an exemplary staff member. She is thorough in completing every documentation task and is punctual with her shifts. She takes the residents on outings frequently. Her demeanor is unshakable calm and consistent, which gives comfort the the residents and confidence to her coworkers. She covers shifts often and sometimes with very short notice, and she happily completes extra tasks, like the recent overnight fire drill for example.
Lisa is a dependable pillar for the Gleicher team, and I believe the same is true at all of the other programs she substitutes for. Especially as a new Program Coordinator, I can't say enough good things about her. It's hard to imagine a more deserving person to receive Employee of the Month, and for this, Lisa is my nomination this month.
~Justin Bolger
Gleicher Program Coordinator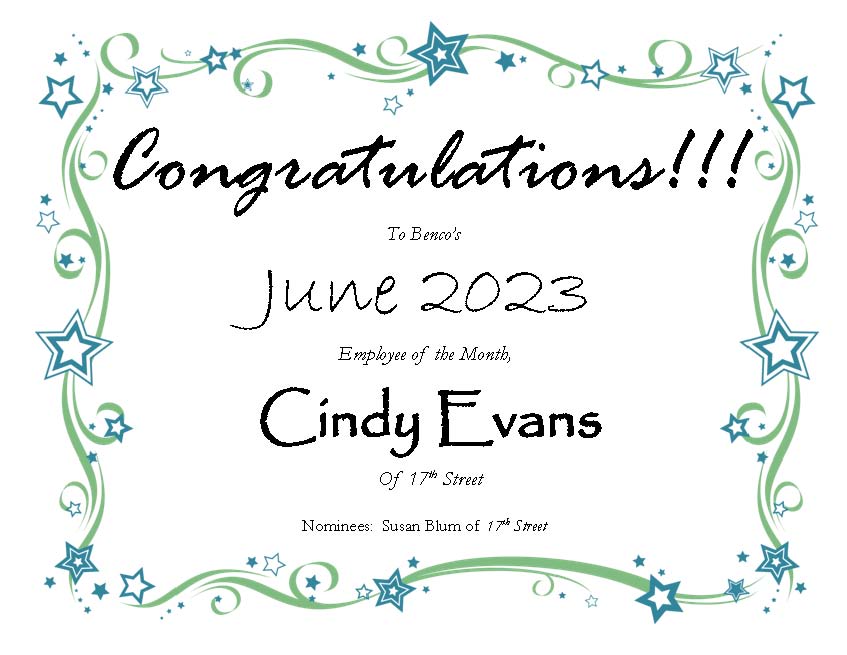 🎉 CONGRATULATIONS🎉 TO CINDY EVANS OF 17TH STREET,
JUNE 2023 EMPLOYEE OF THE MONTH!
Cindy has shown up in some really amazing ways over the past few weeks. First of all, she was subbing at the program and took it upon herself to try and figure out a financial issue. This is a small thing but just shows that she is willing to put in the time to make sure things are right.
Then, her supervisor called the program for a resident situation in the community and she just happened to be there to complete some documentation. The supervisor was just hoping for assistance in problem solving, but Cindy took it upon herself to offer to come out to where they were, and to help out. She had the creative idea to bring the resident's favorite food, and went and got it before arriving to assist. She was calm and cheerful and helped resolve the situation.
When overnight coverage needed to be found in the middle of the night, Cindy agree without hesitation to come in to help. She asked no questions and just let them know she would be there when she could.
Finally, she was the staff who noticed that another resident had a medical issue going on. Staff had been trying to figure out why that resident had been more escalated lately but hadn't figured it out. Cindy was the one who noticed the new medical issue and immediately provided a pain PRN and notified the supervisor so that it could get checked out. The individual wound up being diagnosed with an infection, which not only could have worsened quickly, but also could have continued to cause that resident pain and discomfort.
Cindy has a close attention to detail and shows high levels of care for the residents supported. She doesn't hesitate to help out in whatever way she can and keeps a positive and solution-oriented mindset. We are grateful for her!
~Laura Lonski
Benco Residential Director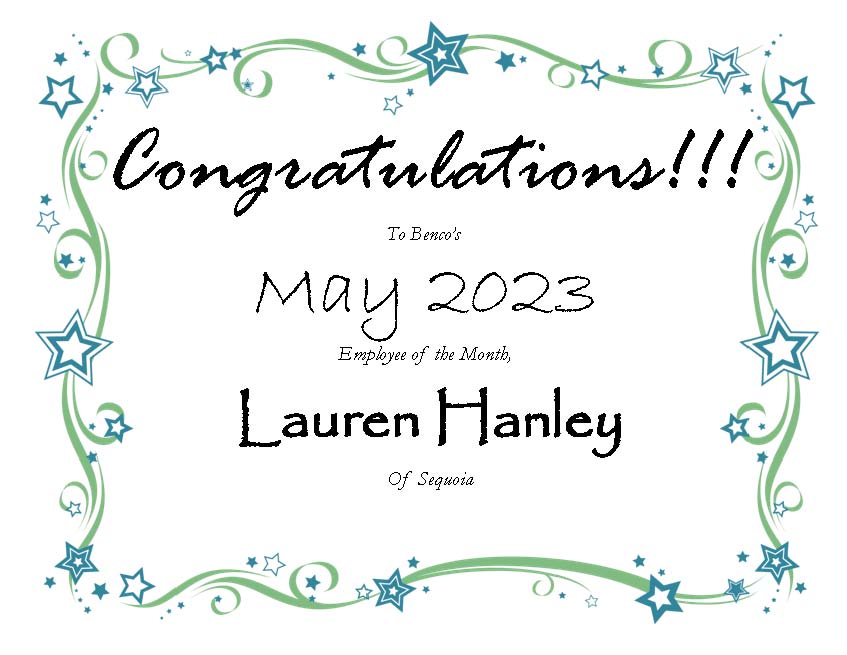 🎉 CONGRATULATIONS🎉 TO LAUREN HANLEY OF SEQUOIA,
MAY 2023 EMPLOYEE OF THE MONTH!
From the moment Lauren clocks into her shifts, she is ready to jump into any and all necessary tasks. Lauren will go above and beyond to help both the residents and her fellow staff, with sincerity and care.
Lauren is currently a full-time student, but this does not stop her from offering to cover numerous open shifts as needed. Now that she is near graduation, she has even started to cross train as a sub at another program that is in need of coverage; this is all on top of the extra hours she puts in at Sequoia.
Her patience and kindness when interacting with the residents is highly admirable, and it is apparent when the residents look forward to seeing and spending tie with Lauren. she is always willing to support the residents in their outings, whether it be working out at the gym, grocery shopping, or going to fun events like the Gem Faire.
I have personally noticed and experienced the increase in positivity in both myself and the staff at Sequoia whenever Lauren comes into work. Even when she is taking a much deserved vacation, we all can't wait to see her when she returns.
Lauren, you are an amazing, hard-working person and we are so lucky to have you! Sequoia appreciates all that you do!
~Jennifer Huff
Assistant Program Coordinator at Sequoia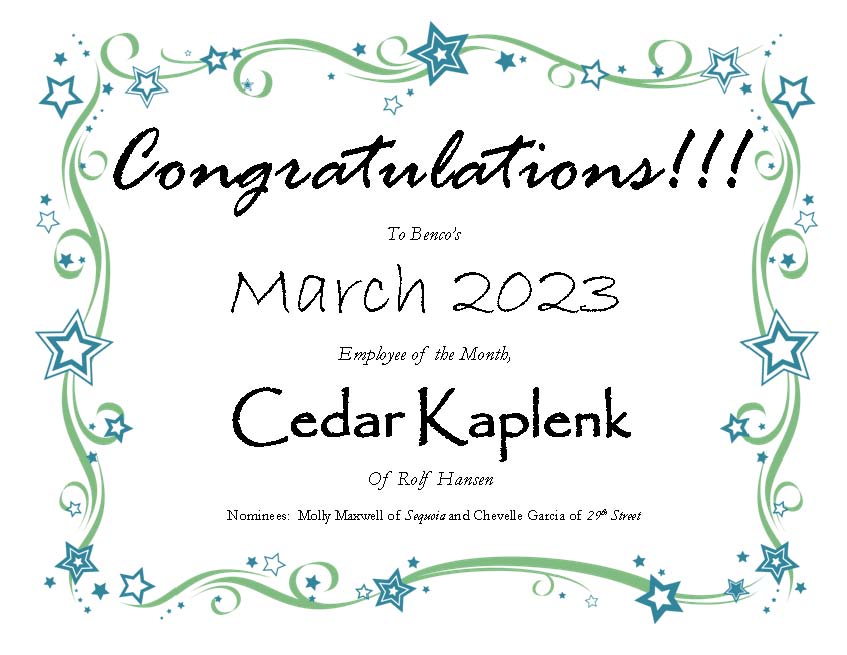 🎉 CONGRATULATIONS🎉 TO CEDAR KAPLENK OF ROLF HANSEN,
MARCH 2023 EMPLOYEE OF THE MONTH!
Cedar has taken on the lead role over the last several months of advocating for one of the residents who has had tremendous work issues. He has helped with the unemployment process, listened to the resident's account of all the details and taken notes, attended meetings with other support people about the issue and spoken to and filled out paperwork that will allow the resident to work with a local lawyer.
Cedar is very professional when dealing with this issue. He has listed to and consoled the resident many times, making sure to explain each step in the process to them. Cedar is also this resident's main technical support when it comes to helping them on their computer projects. Rolf Hansen is a better place because of Cedar!
~Heather Reynolds
Lead Staff at Rolf Hansen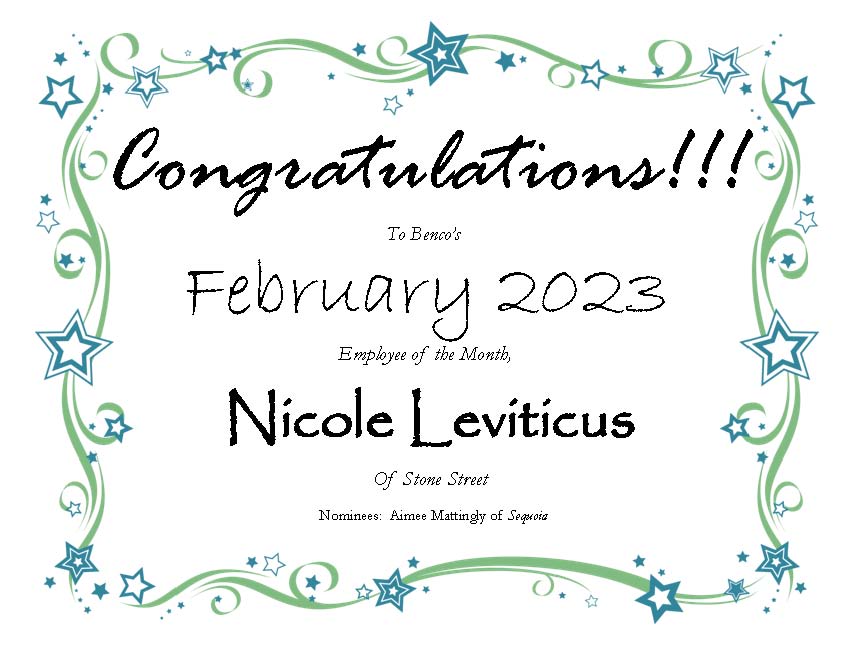 🎉 CONGRATULATIONS🎉 TO NICOLE LEVITICUS OF STONE STREET,
FEBRUARY 2023 EMPLOYEE OF THE MONTH!
I would like to nominate Nicole because she has really gone above and beyond for not only Stone Street, her home program, as well as the Grant and Witham Hill programs too!
Because of her flexibility, willingness to learn, and ability to connect with others, Nicole has contributed enormously to the improvement and daily flow of the programs she is a part of.
I have heard nothing but great things from the Program Coordinators Nicole has worked with at Grant and Witham Hill
~Kayla McNeeley
Program Coordinator at Stone Street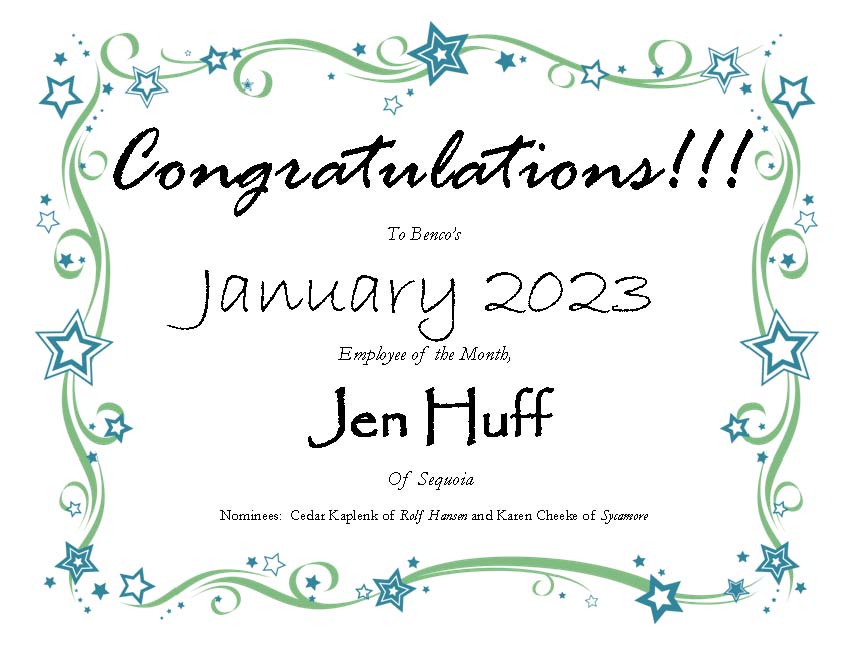 🎉 CONGRATULATIONS🎉 TO JEN HUFF OF SEQUOIA,
JANUARY 2023 EMPLOYEE OF THE MONTH!
Jen has been doing a great job as the Assistant Program Coordinator. she stepped in seamlessly and was a quick study when first hired in September. Through the month of January she has taken one resident to the gym each week. she comes in early for her Overnight shift each week and then she stays later the next day to make sure the necessary management needs are met.
We have also had a resident who had several stays in the hospital so Jen has had to coordinate follow up medical appointments for this individual and she has taken them to multiple each wee. In addition to the medical needs relating to the hospital stays, Jen has also been working to establish a new doctor for the individual. Due to rescheduling by the doctor office and the hospital stays the scheduled meet and greet appointment for the resident with the doctor was rescheduled multiple times. Jen checked back regularly to get a sooner appointment and then came in on her day off to accompany the resident to the appointment to ensure that she was seen as soon as possible.
Jen has taken over writing the weekly schedule while we have no Program Coordinator and the Residential Director has been on leave. She makes sure that when a special occasion like Night to Shine, or an outing for a resident comes up that staff are scheduled for the appropriate time frames needed. She is also making sure that there are treats, coffee, and energy drinks for staff at the program. Having access to these little things is a nice touch when coming in for a shift.
Thank you Jen, for always having a positive attitude when on shift!
~Molly Maxwell
Direct Support Professional at Sequoia