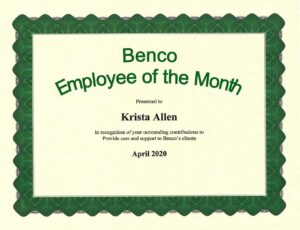 CONGRATULATIONS TO KRISTA ALLEN OF GLEICHER, APRIL 2020 EMPLOYEE OF THE MONTH!
Krista has been a consistent staff member and very helpful to me as the PC. Krista is great with the residents and exudes the patience and kindness that really makes a difference in the resident's lives.
Because of the relationship she has built with one resident in particular, he trusts her to help clean his room which allows for a cleaner overall program.
Krista is very willing to share her experience as an APC and her knowledge of systems and protocols to help myself and other new employees.
Krista has also been very willing to pick up shifts to help fill needs in coverage. Krista does a great job here at Gleicher and deserves to be employee of the month!
~Zach Basham
Program Coordinator at Gleicher