The Program Coordinator (PC) that we would like to recognize this year deserves a lot of praise. In their years with Benco, they have proven that time and again they will continue to be a steady, stable, calm, and supportive presence. In fact, the way that they are present and show up for the people they support is one of the qualities that really makes this PC stand out. This year, we would like to recognize Angie Lawrence as our PC of the Year.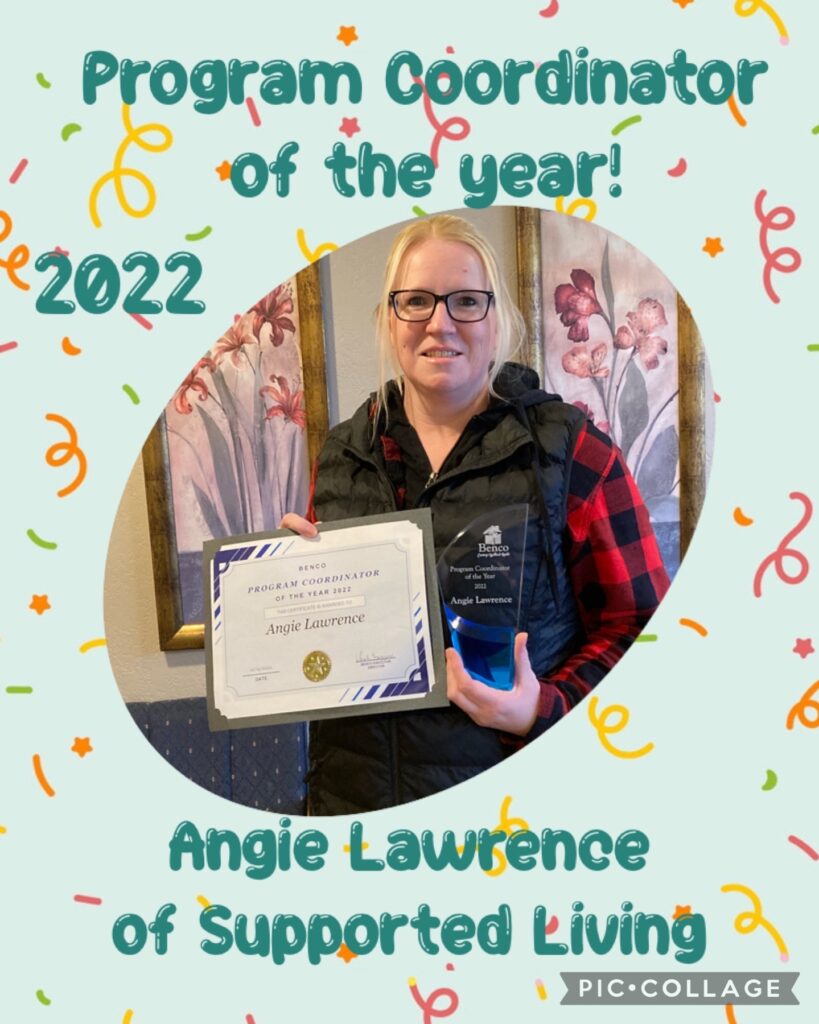 Angie is the PC at Supported Living, which provides supports to 11 individuals. This means that on a daily basis, she manages the medications, doctor's appointments, ISPs, and finances for 11 different adults. Beyond that, each client resides in their own home or apartment spread throughout Corvallis, which means needing to travel to multiple locations throughout a day in order to do something small like an in-person check-in, deliver a medication, or pick up a piece of mail. Angie makes this seem easy, which is all the more impressive when things rise above baseline.
Angie has shown up for clients at the crack of dawn and in the middle of the night. She knows that with clients living in their own homes, they often need a person for support, care, and reassurance to tackle the things that come up – which can never be predicated. In one instance, a client had a bleeding stranger enter their home late at night and called Angie in distress. Angie dealt with law enforcement, scrubbed up blood, and calmed and reassured the individual. In other interactions with law enforcement, she helps the individuals feel safe and empowered to decide who they want in their home when, and to help law enforcement understand and communicate with the individuals supported in a healthy and positive way. She has shown up at used-car lots to help gently dissuade a client from making an impulse vehicle purchase they can't afford; helped clients through the daily care and ultimate end-of-life process of beloved pets; and been at clients' sides to be a listening ear and support when they have experienced really difficult romantic relationship situations. More than once (including this week) she has dropped everything when a client has reported pain so that she can get them urgent medical attention when they aren't able to accurately articulate on their own. She has done everything from pest control to unclog toilets to scrub mold, often taking on tasks just to ensure that those homes and apartments are healthy and safe as soon as possible.
She is an amazing advocate for the people she supports. Often this means knowing when to step back and encourage an individual to do something for themselves, and when to step in and gently guide them in the right direction. She has helped clients get new jobs so many times I've lost count; championed efforts to ensure that they get the benefits they deserve; helped them feel confident about who is a healthy person to build a relationship with and empowered them with the words to use when they want an unsafe person out of their home. She is always up for helping clients make healthier food choices and will bring recipes or cook alongside them when she knows this might help them in their health goals.
She has helped staff work through challenges around one SPL client whose words and actions can be really tough, and continues to show up for and champion him and help problem-solve around solutions for evolving supports for him. Some of the things this person says have been cause for his support staff to experience extreme emotions or not want to work with that individual, but Angie keeps a tough skin and a smile on her face, knowing each day is a new opportunity. She keeps Supported Living staff positive and has created a tight-knit team that shows up for each other, since they know she will show up for them.
Overall, "Ange" (as they often call her) is the number one person who the clients know and trust. They know she will be unruffled, calm, and supportive even through the most challenging times. She helps the clients feel like they are people first, and that their behaviors and diagnoses do not define them. She will drop everything to take a client to a counseling appointment, or to assist them with a medical situation, to help them get a disgruntled friend out of their apartment, or even to help explain a scary piece of mail – whatever it is that that person needs in that moment. She epitomizes dedication, commitment, kindness, and support. She has a quiet strength that has prevailed through intense challenges, and we are so grateful for her leadership at Benco.