Benco's Supported Living Program Receives 2022 Best of Corvallis Award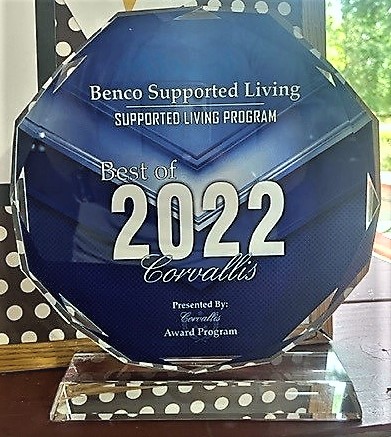 CORVALLIS August 1, 2022 — Benco Supported Living has been selected for the 2022 Best of Corvallis Award in the Supported Living Program category by the Corvallis Award Program.
Each year, the Corvallis Award Program identifies companies that they believe have achieved exceptional success in their local community. These businesses recognized are local companies that enhance the positive image of small business through service to their customers and our community. These exceptional companies help make the Corvallis area a great place to live, work and play.
Various sources of information were gathered and analyzed to choose the winners in each category. The 2022 Corvallis Award Program focuses on quality, not quantity. Winners are determined based on the information gathered both internally by the Corvallis Award Program and data provided by third parties.
Benco's Supported Living Program provides staffing and support to individuals with intellectual and developmental disabilities living in their own home. Staff visit each person at their home and assist them as needed to help develop, build, and maintain skills to live independently and access resources within their community. Angie Lawrence, program coordinator, manages the program which provides support to 11 individuals within Benton County. Supported Living has a tight knit team of 6 in addition to Lawrence. The services delivered are tailored to what the person needs and wants to be successful and lead a high quality of life. Each employee is trained to ensure health and safety, honoring the individual's privacy and rights, and to treat each person with dignity and respect. Staff assist with house cleaning, laundry, dietary needs, cooking, budgeting, shopping, and general activities of daily living. Staff also provide advocacy support and inclusion within the community.
Throughout the pandemic instances of isolation and loneliness increased substantially, especially for people with disabilities.  COVID-19 has illuminated many challenges for this high-risk population within our community.  The closure of many ancillary services and shift to telemedicine, meant health conditions were at even more substantial risk.  The "Stay Home, Save Lives" orders, often left people in isolation for weeks and months at a time, a dramatic shift from typical routines and for many resulted in a loss of natural supports and friendships and at times a loss of purpose.  With more dissemination of information occurring through email, websites, and virtual meetings, it left those with disabilities confused and lost.  Without access to the internet, technology devices, and lacking the knowledge or skills to navigate websites and access online resources uncertainty and fear grew.  Lack of access to services such as online banking, using door dash or click list to obtain food, groceries, and personal supplies, created an environment which was almost impossible to navigate.  As anxiety increased, Benco's team was there to provide stability and solutions. 
This is where Benco's Supported Living Program really shined. Recognizing these new challenges, the team of caring and dynamic employees came together and delivered big time! They went out of their way to check in, communicate, explain, set plans, build support, provide companionship, and meet needs. Their ability to identify how to best support people during the constant change in precautions really exceeded expectations. They continue to demonstrate, day in and day out, all of the different ways they show up to support their clients.